bio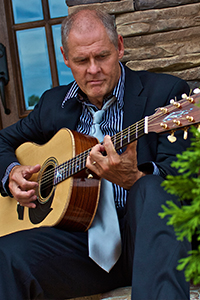 Gerald Crabb was born in the small rural town of Rosine, Kentucky. As a young boy, Gerald was passionate about music. At age five he sang for the first time in public at a church in Louisville. By age eleven, Gerald was playing the guitar and was preaching by age sixteen. Over the years, God has blessed Gerald with a thriving ministry and a compelling career in music as a singer, songwriter, publisher, and producer.
In 1994, Gerald founded the international known group, the Crabb Family, and led them to a whirlwind of success. During the Crabb Family's tenure, they claimed many number one songs, numerous awards and opportunities to sing on platforms across the nation and abroad.
Gerald Crabb has appeared in various churches, stages and platforms as well as on Gaither Videos, TBN, The 700 Club, the INSP, CMT and GAC. He has also performed at Carnegie Hall, The Grand Ole Opry, The Ryman Auditorium, Red Rocks Colorado, and The Brooklyn Tabernacle.
During Gerald's songwriting career, he has written over 450 songs with 20 of those claiming the number one spot nationally. From January 1998-December 2006, one or more of his songs held the number one position on the national southern gospel chart for 37 months out of a 107-month period.
Crabb has been awarded numerous songwriting awards throughout his career. In 2011 he was awarded Songwriter of the Year at the 42nd Annual Dove Awards and also won Song of the Year for "Sometimes I Cry," recorded by Jason Crabb. Gerald has received five other Dove Awards and has won several prestigious BMI Music Awards. In 2002 Crabb won BMI Awards for both Songwriter of the Year and Publisher of the Year.
For nine consecutive years, Gerald was selected by the Gospel Music Association to perform at the Songwriters' Showcase with writers such as Michael W. Smith, Steven Curtis Chapman, Nicole C. Mullen, Bart Mallard, Kirk Franklin, Mac Powell, Mark Hall and many others.
Crabb is known for penning numerous popular songs performed by The Crabb Family including, "Please Forgive Me," "He Came Looking For Me," "Don't You Wanna Go," "Please Come Down To Me," and many more. The classic hit, "Through The Fire" is perhaps Crabb's most significant song to date. "Through The Fire" was featured on the 51st Annual Grammy Award winning Album, GLORY TRAIN by Randy Travis in the Best Southern, Country, or Bluegrass Gospel album category. It was also featured on the 52nd Annual Grammy Award winning Album, JASON CRABB by Jason Crabb in the same category.
"Through The Fire" has proven to be so effective, Bill Gaither once advised the Crabb Family to never go through a concert without singing it. In 2012 Gerald released a book of personal and powerful testimonies of how God has used the song to change lives.
In addition to the Crabb Family, many other popular artists have recorded Gerald's music including Randy Travis, Marie Osmond, Shenandoah, Mike Purkey, Larry Sparks, Jason Crabb, The Gaither Vocal Band, The Brooklyn Tabernacle Choir, Donny McClurkin, Karen Peck, The Talley Trio, The Booth Brothers, The Hoppers, The Collingsworth Family and many others. Gerald is currently a staff writer at Daywind Publishing.
Gerald's motivation to see souls saved and lives changed keeps him busy performing, writing, preaching and producing. He ministers at numerous concerts, events, camp meetings and revivals throughout the year and occasionally mentors upcoming artists by offering songwriting and music business workshops.
Although Gerald's ministry takes him across the nation, he still prefers to live in a small town. Gerald and his wife, Debi, make their home in Ripley, Mississippi.
Fact Sheet– Gerald Crabb
GMA Writers Showcase, Southern Gospel Writer- nine consecutive years
20 National Number One Songs
1994
Founded The Crabb Family
1998
"Please Forgive Me" #1 Southern Gospel Song of the Year (Singing News)
2000
"Through The Fire" # 1 Southern Gospel Song of the Year (Singing News)
2001
BMI Performance Award- "Through The Fire"
2002
BMI Songwriter of the Year
BMI Publisher of the Year
"The Reason That I'm Standing" #1 Southern Gospel Song of the Year (Singing News)
BMI Performance Award- "That's No Mountain"
2003
BMI Performance Award-"The Healer"
BMI Performance Award-"Don't You Wanna Go"
Dove Award- "Don't You Wanna Go," Southern Gospel Song of the Year
Dove Award- Southern Gospel Album of the Year, CRABB COLLECTION (Producer)
2004
Southern Gospel Music Guild- Songwriter of the Year
Dove Award- "The Cross," Southern Gospel Song of the Year
Dove Award- Southern Gospel Album of the Year, THE WALK
BMI Performance Award- "Please Come Down To Me"
2005
SGN Music Award- Songwriter of the Year
SGN Music Award Song of the Year- "He Came Looking For Me"
SGN Music Award Progressive Song of the Year- "Greater Is He"
Diamond Award- Dottie Rambo Songwriter of the Year
Dove Award Nominee- Top 5 Songwriter of the Year
Dove Award Song of the Year Nominee- "Through The Fire"
Dove Award- "He Came Looking For Me," Southern Gospel Song of the Year
Dove Award-"Forever," Country Recorded Song of the Year
Dove Award- "Through The Fire," Traditional Gospel Recorded Song of the Year
Dove Award – DRIVEN, Southern Gospel Album of the Year
BMI Performance Award- "Places To Go, People To See"
Southern Gospel Music Guild- Songwriter of the Year
2006
Dove Award – "Through The Fire," Southern Gospel Song of the Year
2007
Gospel Fanfair Award – "Hold Me While I Cry," Favorite Song
BMI Performance Award- "Shepherd's Call"
Diamond Award- Soloist of the Year
Diamond Award – Dottie Rambo Songwriter of the Year
2008
SGN Music Award – Songwriter of the Year (Artist)
2010
Diamond Award – Dottie Rambo Songwriter of the Year
2011
Dove Award – "Sometimes I Cry," Song of the Year, recorded by Jason Crabb
Dove Award – Songwriter of the Year
Diamond Award – "Please Forgive Me," Song of the Year, recorded by the Gaither Vocal Band
2012
Dove Award Final Nominee- "Please Forgive Me," Song of the Year
CGM Fan Fair Award – Favorite Crossover Artist
Diamond Award – Dottie Rambo Songwriter of the Year
Signed with EMI CMG Music Publishing
2013
BMI Performance Award – "Sometimes I Cry"
CMG Country Fan Award – Songwriter of the Year
Dove Award Song of the Year Final Nominee- "Hold On"
Diamond Award – Dottie Rambo Songwriter of the Year
2014
Signed with Daywind Publishing
2015
Christian Voice Magazine 2015 Gospel Music Fan Awards – Favorite Songwriter
Diamond Award – J.D. Sumner Living Legend Award
Diamond Award – Dottie Rambo Songwriter of the Year
Country Music Awards of Australia – Bluegrass Recording of the Year: One Heartbreak Away (Kristy Cox)
What Others Say
"Gerald Crabb was given a unique insight into human experience and emotions, and how the power of the Gospel can affect that experience. And to top it off, he can articulate it very well into prose which can be wed to a melody which can imbed itself deep in your brain. That is an ability that only comes as a gift from God!" ~Phil Collingsworth
"We've had the pleasure of recording several Gerald Crabb songs. He has a gift of translating our deepest emotions into song. Gerald is an incredible song writer and is very well respected in our business. It's a pleasure to honor him by this quote." ~Ben Isaacs
"For most of my life I've seen my dad write song after song and then watched them turn into great hits for our family as well as many other artists. I think he is one of the best songwriters alive today! Now in this chapter in my life, I have the privilege of sitting down with him and writing together. This is just another way that God is blessing my life. God is so good!" ~Jason Crabb
"Gerald is one of the sweet, gentle spirits in the gospel music field. I have written with him and I am glad to call him my friend." ~Bill Gaither
"Gerald Crabb is an anointed songwriter with songs that have made an impact on the world for many years now. He's a close friend of mine and I look forward to many more years of great music from his heart as Gerald continues to be in tune with the Lord." ~Phil Cross
"The first time I wrote with Gerald he asked me if I'd ever read SONGWRITING FOR DUMMIES. He said he was reading it and was learning a lot. It made me laugh, because who would ever dream that the amazing Gerald Crabb would need to learn anything about writing, much less from a "For Dummies" book? I was blown away by the humble way he approached writing, and somehow I believe this is what makes his songs so wonderful. There is not a moment of pride or pretentiousness in them. I long to have that measure of honesty in every song I write. It's what makes him one of my songwriting heroes!" ~Sue C. Smith